Born in 1972 in Gniezno. Animated films director. Grad­uate of the Academy of Fine Arts in Krakow, Faculty of Graphic Arts (2000 final diploma dissertation work at the Animated Film Studio awarded the Academy of Fine Arts Rector's Medal); and of the Leon Schiller Higher School of film, Television and Theatre in Łódź (doctoral studies at the Faculty of Cinematography and Television Production, doctor­al dissertation defended in 2017).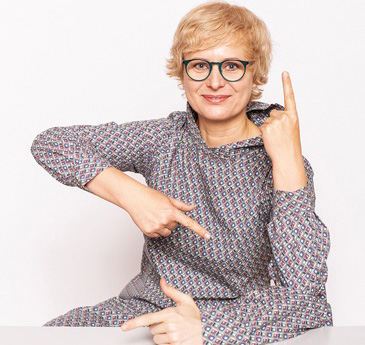 Two-times winner of the Scholarship of the Minister of Culture and National Heritage; awarded Scholarships of the City of Krakow and the Goethe-Institut. In the years 2008-2012, chair of the Polish chapter of ASIFA (Associa­tion Internationale du Film d'Animation, International Animated Film Association). In the years 2005-2008, member of the Krakow chapter of the Association of Polish Filmmak­ers. In the years 2010-2020, Polish Film Institute expert appointed by the Minister of Culture and National Heritage. Assistant professor at the Institute of Media Arts of the Pedagogical University of Krakow, where she is also the acting head of the Multimedia Chair.
Her films (Between Us (2000), Choruses (2007), XOXO Hugs and Kisses (2016), The Great Big Book of Feelings – Longing (2020)) were shown and won awards at multiple festivals in Poland and abroad, i.a. at the National Gallery of Art Washington D.C., Kosciuszko Foundation in New York City, Barbican Centre in London, Centre Pompidou in Paris, Centre for Contemporary Art at the Ujazdowski Castle in Warsaw, Hiroshima Animation Festival in Japan, and Annecy Animation Festival in France.