10. KRAKOW SUMMER ANIMATION DAYS
26-29 July 2018, Mały Rynek, Kraków
Outdoor screenings of the best animations from the last season
FREE ENTRY FOR ALL SCREENINGS AND WORKSHOPS.
THE FILMS HAVE ENGLISH SUBTITLES.
www.ksad.pl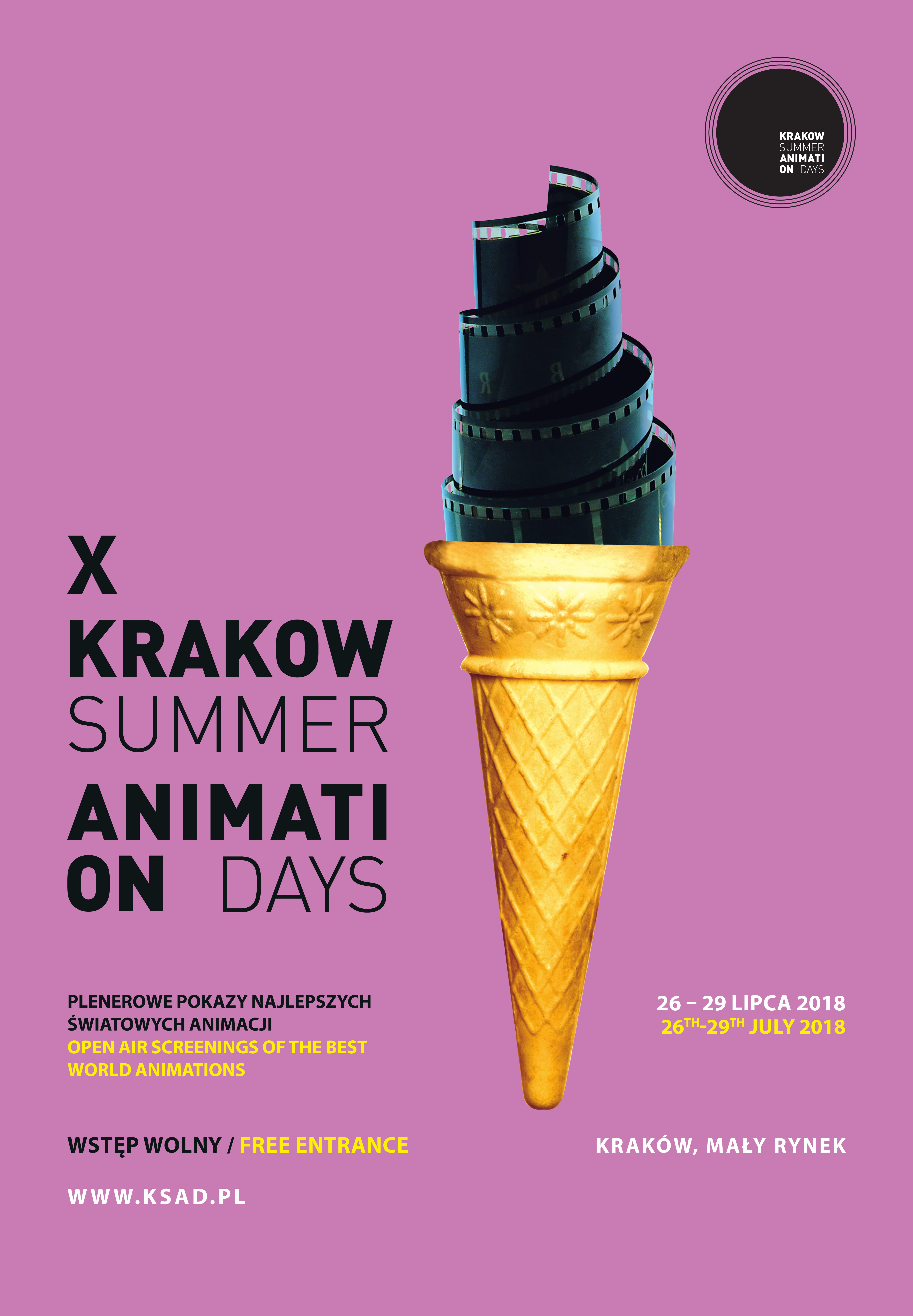 Poster from 10. Krakow Summer Animation Days
The tenth edition of Krakow Summer Animation Days (26 – 29 July 2018) is an outdoor event organised by the ETIUDA&ANIMA Foundation for the Promotion of Artistic, Film and Audiovisual Culture in cooperation with the Krakow Festival Office.
Over four evenings, animated films from such countries as Norway, Canada, Australia, Israel, Japan, Great Britain, Germany, Belgium, Russia, Denmark, France, the USA and Poland will be presented on Krakow's Mały Rynek.
We will have the chance to watch Oscar Nominated Shorts (short Oscar-nominated animated films), the best Slovakian animations (prepared by the Slovak Film Institute and Fest Anča International Animation Festival to mark the 25th anniversary of Slovakian Animation) and prizewinning animations from the following festivals: the International Film Festival Etiuda&Anima (Poland), Anima – The Brussels Animation Film Festival (Belgium), the Annecy International Animation Film Festival (France) and the Volda Animated Film Festival (Norway).
We will also be screening some of the latest animated feature films, including an Oscar-nominated, hand-painted story of Van Gogh, Loving Vincent (dir. Dorota Kobiela, Hugh Welchman) and the story (created using puppet technology) of the most famous dog that flew into space – Laika (dir. Aurel Klimt).
During Krakow Summer Animation Days, we will also be preparing animation workshops for children and music video workshops for young people (aged 13-18).
Please feel invited!
26.07.2018 (Thursday)
9.30 p.m.
Oscar Nominated Shorts 2017– Animated Films (54')
The Academy of Motion Picture Arts and Sciences Prize is one of the most prestigious distinctions in the film world. Over the last thirty years, the most important film industry representatives have never forgotten to honour the short film, such an important part of American and world cinema.
The Ad Arte Foundation is the exclusive Polish distributor of two categories of Oscar Nominated Short – acted films and animated films.
– Dear Basketball, dir. Glen Keane, USA 2017, 6'
– Garden Party, dir. Victor Caire, Gabriel Grapperon, USA 2016, 7'
– Lou, dir. Dave Mullins, USA 2017, 7'
– Negative Space, dir. Max Porter, Ru Kuwahata, France 2017, 5'
– Revolting Rhymes, dir. Jakob Schuh, Jan Lachauer, Great Britain 2017, 29
10.30 p.m.
The Best of ANIMA 2017 (I) – International Film Festival Etiuda&Anima, Poland (81'55")
The programme of this festival, which has been organised in Krakow since 1994, focuses on student short films. Last year, Anima.pl, a new competition for the best Polish animation was organized.
– Oh Mother!, dir. Paulina Ziółkowska, Poland 2017, 12'15"
– Hedgehog's Home, dir. Eva Cvijanovic, Canada 2017, 10'
– a photo of me, dir. Dennis Tupicoff, Australia 2017, 10'48"
– A Love Letter to the One I Made Up, dir. Rachel Gutgarts, Israel 2017, 6'05"
– The Junction – Chilly Gonzales&Peaches, dir. Patrick Doyon, Canada 2016, 4'42"
– Notes on monstropedia, dir. Koji Yamamura, Japan 2016, 6'10"
– Rabbit's Blood, dir. Sarina Nihei, Great Britain 2017, 4'42"
– Sog dir. Jonathan Schwenk, Germany 2017, 10'14"
– 9 ways to Draw a Person, dir. Sasha Svirsky, Russia 2016, 6'29"
– Nothing Happens, dir. Michelle, Uri Kranot, Denmark/France 2017, 11'50"
00.00 a.m.
Best of Anima 2018 – Brussels Animation Film Festival, Belgium (60')
Anima, the International Animated Film Festival in Brussels, was founded in 1982 as a platform for the presentation of the best animated films from around the world. It enjoys the status of festival that qualifies films for the Academy Award for Best Animated Short Film.
– Fetch, dir. Denis Voronin, Russia 2016, 1'
– The Green Bird, dir. P. Perveyrie, M.Bougeois, M. Goalard, I.Nguyen-Duc, Q.Dubois, France 2017, 6'45"
– In a Nutshell, dir. Fabio Friedli, Joder von Rotz, Switzerland 2017, 5'48"
– Muteum, dir. Äggie Pak Yee Lee, Estonia, Hong Kong 2017, 4'10"
– Fruits of Clouds, dir. Katerina Karhankova, Czech Republic 2017, 10′
– The Box, dir. E. Belrose, C. Favier, L. Lagillier, A. Mathé, J. Perrey, J.Rivet, France 2017, 6'59"
– Voyagers, dir. G.Ammeux, V. Baillon, B. Chaumény, A. Dumez, L. Finucci, M. Roger, France 2017, 7'33"
– Snack, dir. Burcu Sankur, Geoffrey Godet, France 2016, 0'59"
– The Hunt, dir. Alexey Alekseev, France 2016, 5'36''
– Plantae, dir. Guilherme Gehr, Great Britain 2017, 10'25''
27.07.2018 (Friday)
9.30 p.m.
– Loving Vincent, dir.  Dorota Kobiela, Hugh Welchman, Poland/Great Britain 2017, 95' (English subtitles)
A biographical film about Vincent van Gogh that brings his paintings to life on the big screen, while simultaneously portraying a selection of dramatic episodes from the artist's tempestuous life as well as his mysterious death. Every one of the 65,000 frames was hand-painted in oil on grounds. The project gathered together 125 professional painters from all over the world, who came to film studios in Poland and Greece to undertake this extraordinary task.
11.15 p.m.
The Best of ANIMA and ANIMA.PL 2017 (II) – International Film Festival Etiuda&Anima, Poland (79'04")
– Negative Space, dir. Max Porter, Ru Kuwahata, France 2017, 5'30"
– Delicatessen, dir.  Fenglin Chen, USA 2017, 4'40"
– Impossible Figures and Other Stories II, dir. Marta Pajek, Poland 2016, 14'52"
– Strange Case, dir. Zbigniew Czapla, Poland 2017, 13'30"
– Mr. Miniscule and the Whale, dir. Andrzej Gosieniecki, Poland 2016, 9'
– Schroedinger's Dog, dir. Natalia Krawczuk, Poland 2016, 8'50"
– Forsaken Forest, dir. Anna Beata Barańska, Poland 2016, 9'39"
– Super film, dir. Piotr Kabat, Poland 2016, 5'28"
– Evening, dir.  Izabela Plucińska, Poland/Germany 2016, 2'30"
– Z as in Puzzle, dir. Michał Socha, Poland 2017, 3'57"
– Oh God, dir. Betina Bożek, Poland 2017, 3'48"
28.07.2018 (Saturday)
9.30 p.m.
– Laika, dir. Aurel Klimt, Czech Republic 2017, 87'
Life is not easy for Laika, a dog living in the suburbs of a large Russian city. She was caught and forced to retrain as a pioneer astronaut. Shortly after her space voyage, she is followed by several other animals who are hurriedly launched into space from Houston and Baikonur. Puppet animation.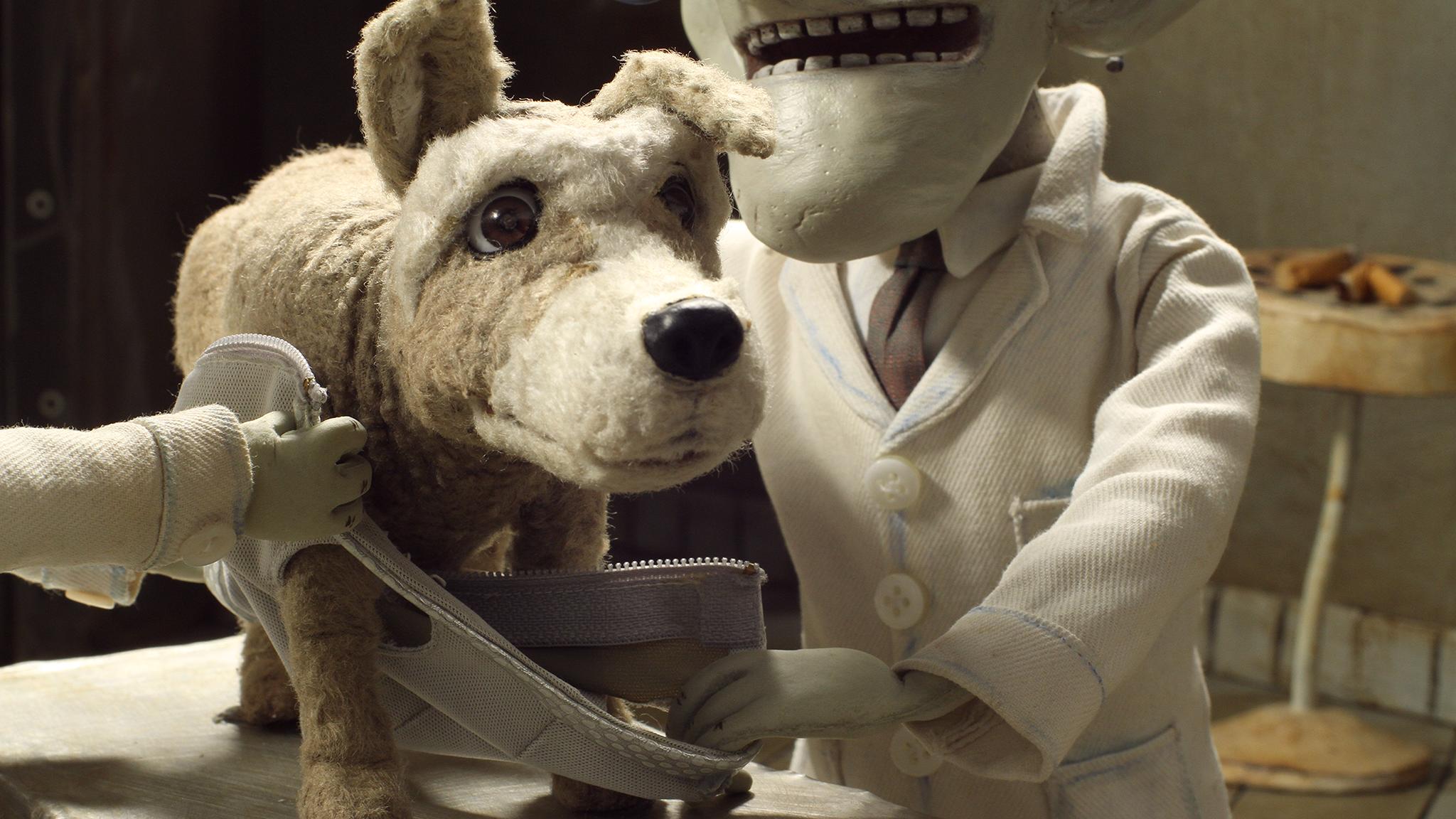 Frame from animation "Laika"
11.00 p.m.
The Best of Annecy 2018 – International Animation Film Festival, France (66')
This festival was launched in 1960. It is the oldest and largest festival in the world devoted to animation and acts as a point of reference for the whole animation milieu. The presented set of films include animations awarded prizes and commendations at this year's festival.
– Weekends, dir. Trevor Jiminez, USA 2017, 15'17"
– Hybrids, dir. Florian Brauch, Matthieu Pujol, Kim Tailhades, France 2017, 6'22"
– Egg, dir. Scarpelli Martina, Francja, Denmark 2018, 12'07"
– Biciklisti/Cyclists, dir. Veljko Popovic, France 2018, 7'23"
– Inanimate, dir. Lucia Bulgheroni, Great Britain 2018, 8'
– Barbeque, dir. Jenny Jokela, Great Britain 2017, 5'44"
– Bloeistraat 11, dir. Nienke Deutz, Belgium 2018, 9'39"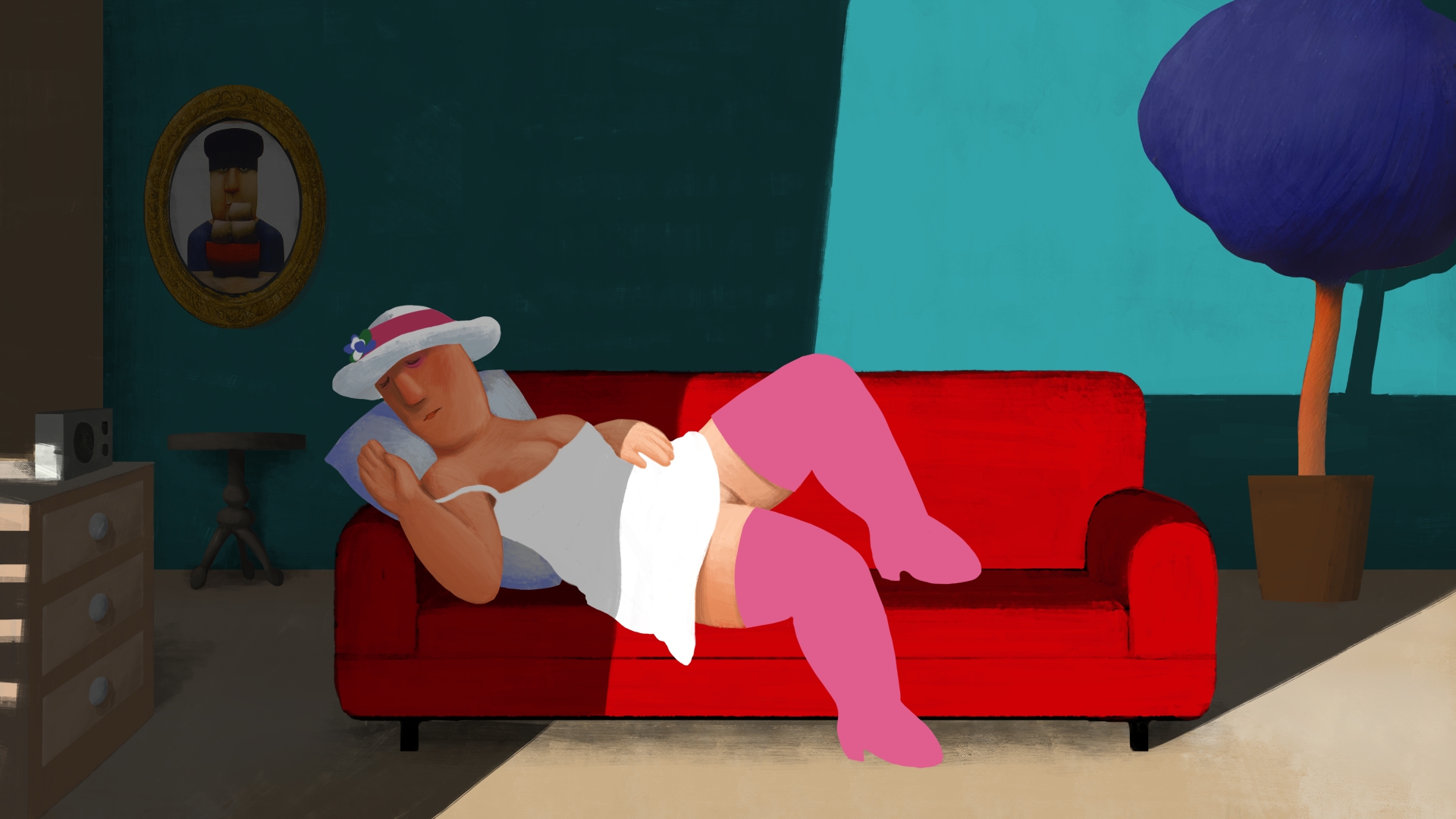 Frame from animation "Biciklisti/Cyclists"
00.15 a.m.
Tribute to Yach Paszkiewicz and Polish Animated Music Videos (60')
Yach Paszkiewicz is the creator of more than four hundred music videos. He has worked with such artists as De Mono, Kult, Apteka, Maciej Maleńczuk, Wojciech Waglewski, Golden Life and Hey. He is the co-creator of the Yach Film Polish Music Videos Festival.
The programme will include both music videos created during workshops led by Paszkiewicz and others created by the best directors of animated music videos.
29.07.2018 (Sunday)
9.30 p.m.
Volda Animated Film Festival, Norway (60')
The Volda Animated Film Festival was created as a natural step towards expanding the international network of the academic community of a university in Volda, a small town in the Norwegian fjords that prides itself on being an academic centre that offers a media education programme that includes animation studies. The festival is organized by animation students and presents the best student films from Scandinavia and the Baltic States.
– Janus, dir. Linda Fagerli Sæthren, Norway 2007, 8'02''
– Sáiva, dir. Tuva Synnevåg, Norway 2009, 8'31''
– But Milk Is Important, dir. Anna Mantzaris, Eirik Grønmo Bjørnsen, Norway 2012, 10'38''
– The End is Neigh, dir. Dag Ove Solaas, Tilda Krantz, Norway 2017, 6'58''
– Mental You Can Be Yourself, dir. Anders Hesbøl, Norway 2016, 3'35''
– Liv, dir. Sunniva Fluge Hole, Norway, Great Britain 2017, 3'57''
– Less Than Human, dir. Steffen Bang Lindholm, Denmark 2016, 6'09''
– Once in the Fields of Boredom, dir. Teele Strauss, Estonia 2017, 5'20''
– Monday, Tuesday, Wednesday, dir. Riina Vilén, Finland 2017, 5'10''
10.30 p.m.
Slovak Film Institute and the Fest Anča International Animation Festival – the 25th Anniversary of Slovakian Animation (76')
Slovakian animation has gone through turbulent times since 1993. However, the creation of the Department of Animation at the Academy of Performing Arts prevented the complete disintegration of the creative environment. During this groundbreaking period, a new generation of animators has emerged. An important role in the development of Slovakian animation was played by animated music video commissions.
– A Ballad of Four Horses, dir. GraTex s.r.o., Slovakia 1995, 4'
– Steps, Jumps, Years… And the Last One Out Switches off the Light, dir. Katarína Kerekesová, Vanda Raýmanová, Slovakia 1995. 5'
– Glider, dir. Igor Derevenec, Juraj Krumpolec, Slovakia 1997, 4'
– Double Invention in A Minor, dir. Vladimír Král, Slovakia 1998, 2'
– In the Box, dir. Michal Stuss, Slovakia 1999, 6
– Lionardo Mio, dir. Ivana Šebestová, Slovakia 2004, 7'
– Viliam, dir. Veronika Obertová, Slovakia 2009, 7'
– tWins, dir. Peter Budinský, Slovakia 2011, 6'
– The Last Bus, dir. Ivana Laučíková, Martin Snopek, Slovakia 2011, 15'
– Pandas, dir. Matúš Vizár, Slovakia 2012, 11'
– Cowboyland, dir. Dávid Štumpf, Slovakia 2015, 5'
WORKSHOPS (FREE ENTRY):
Animation workshops for children – led by Marta Skrocka and Cezary Skrocki
When: 28 July (Saturday), two groups: 10 a.m. -1 p.m.; 2 p.m.- 5 p.m.
Where: National Museum – Szołayski House – a branch of the National Museum in Krakow, Plac Szczepański 9
Age range:  from 6 to 12
Number of places: from 10 to 12
Registration: marta.chwalek@etiudaandanima.pl
Music video workshops for young people – led by Aleksandra Wójcik and Izabela Sawicka.
Artist: Adam "Wola" Wolski, Mamadou Góo Bâ
When: 28-29 July (Saturday, Sunday), 9 a.m. – 3 p.m.
Where:  Szołayski House – a branch of the National Museum in Krakow, Plac Szczepański 9
Age range:  from 13
Number of places: 10-12
Registration: marta.chwalek@etiudaandanima.pl