We invite you to an international academic conference on animated film – "Twisted Dreams of History. V4 Perspective on Propaganda, Ideology and Animation" and for screenings of propaganda films "Frame by Frame Agitation" during 24th IFF Etiuda&Anima.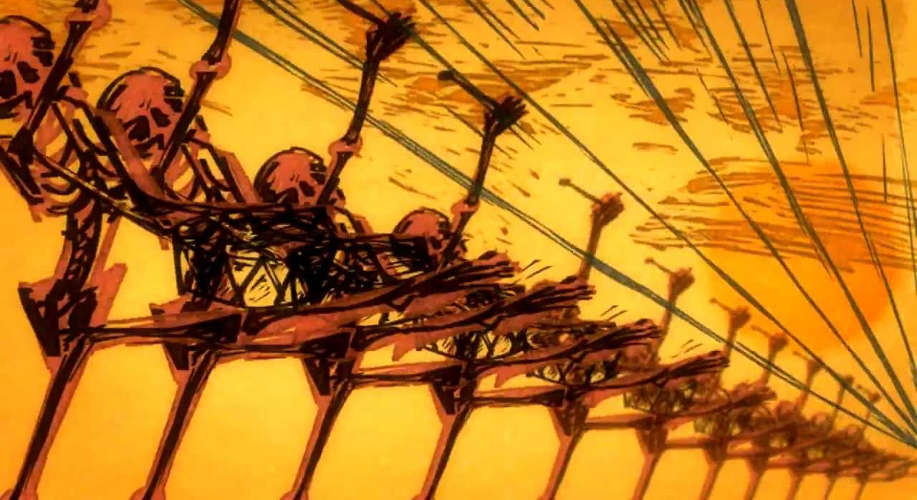 Still from animation "Gloria Victoria"
2nd international academic conference from the cycle titled "Twisted Dreams of History" devoted to the title relation between ideology, propaganda and animation. Apart from scientists from V4 region, the event will also host researchers from other countries. The conference's special guest will be Theodore Ushev, a Bulgarian author of animation working in Canada.
From its very beginnings animation was used as a convenient channel of ideological transmission. Complex artistic works, educational children films, simple commercials – all of them have been easily incorporated into propaganda apparatuses upholding various political systems. In the first decades of film history pioneers such as Winsor McCay, Quirino Cristiani, Zenon Komissarenko or Wan Brothers demonstrated the engaging and persuasive potential of animated attraction. This potential was recognized by the authorities seeking easily understandable and highly entertaining form of communication with the masses.
During the World War II both the Allies and the Axis countries mobilized popular cartoon characters to serve on the front-lines of the propaganda war. From the perspective of the film historian concerned aboutinterweaving of art and ideology, the Cold War era is arguably the most interesting period. Comparative analysis of the animated propaganda from both sides of the Iron Curtain may expose modes of manipulation in their purest form.
Krakow, Poland
23rd – 24th November 2017, 09.00 am. – 03.00 pm.
Faculty of Humanities, AGH University of Science
and Technology in Krakow
30-001 Kraków, Gramatyka 8a street
Building D-13, room 21, first floor
The Organizers:
Foundation for Promotion of Artistic, Film and Audiovisual Culture "Etiuda and Anima"
Faculty of Humanities, AGH University of Science and Technology in Krakow
Project financed by:
International Visegrad Fund
Conference Academic Committee
Professor Stefan Bielański (Pedagogical University of Cracow),
Professor Barbara Gąciarz (AGH University of Science and Technology in Krakow),
Professor Alicja Helman (Jagiellonian University, University of Humanities and Economics in Lodz),
Professor Jadwiga Hučkova (Jagiellonian University),
Professor Andrzej Pitrus (Jagiellonian University),
Professor Anna Siwik (AGH University of Science and Technology in Krakow)
Conference Organizational Committee
Olga Bobrowska,
Michał Bobrowski PhD,
Bogusław Zmudziński PhD
Project Partners:
Bielska Gallery BWA, Bielsko-Biała, Poland
PAF Festival of Film Animation, Olomouc, Czech Republic
Primanima World Festival of First Animations, Budaors, Hungary
Fest Anča, Žilina, Slovakia
StopTrik International Film Festival, Maribor/Lodz, Slovenia/Poland
Academy of Fine Arts in Krakow, Poland
Confucius Institute of the Jagiellonian University in Krakow, Poland/China
Krzysztof Dydo's Cracow Poster Gallery, Poland
Budapest Poster Gallery, Hungary
The academic conference will be accompanying by screenings of propaganda animated film during Etiuda&Anima festival – "Frame by Frame Agitation".
Frame by Frame Agitation, part 1: Propaganda Aesthetics in Poland, Czechoslovakia and Hungary
23rd November (Thursday), 03.45 pm.
Malopolska Garden of Arts – Small Screening Room

Frame by Frame Agitation Part 2: War and Economics
24th November (Friday), 03.00 pm.
Malopolska Garden of Arts – Small Screening Room