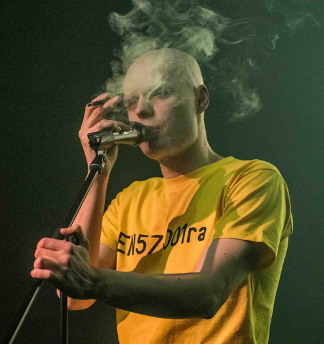 Wojciech Bąkowski – born 1979 in Poznań, director of animated and experimental films and videos, a visual artist, poet, musician, and creator of audio performances. He is also known by the stage name WuEsBe. A graduate of the Academy of Fine Arts in Poznań, where he studied in the Audiosfera Studio and the Laboratory of Animated Film under Leszek Knaflewski and Hieronim Neumann. In 2004 he started a music band "KOT", where he writes all the lyrics and music. He is also a leader of a post-rap group Czykita and an electronic duo NIWEA, as well as a member of the PINKPUNK association. Along with Piotr Bosacki, Radosław Szlaga, Tomasz Mróz, Magdalena Starska and Konrad Smoleński, he co-created the PENERSTWO art group.

In 2008 the first individual exhibition of the artist's drawings and animations, entitiled "Are you going with me? – Where? – In dark fuck!" ("Idziesz ze mną? Gdzie? W dupę ciemną") took place in Leto Gallery in Warsaw. The exhibition was reprised in The Arsenal Municipal Gallery in Poznań. In 2009 Bąkowski was presented with the Deutsche Bank Foundation's Views Award for the most interesting young Polish artist of the time. During the same year he was awarded with the Medal of Young Art, while his works were included in a group exhibition "The Generational: Younger Than Jesus" in the New Museum in New York. In 2011 he received the Polityka magazine "Passport" award for the art combining brutality and lyricism in an original way and for giving new, interesting meaning to the notion of "multimedia artist".

In 2017 Łukasz Ronduda directed a biographical film "A Heart of Love", telling the story of the relationship between Bąkowski and an independent artist Zuzanna Bartoszek, with Jacek Poniedziałek and Justyna Wasilewska starring as the two protagonists.